Hello Bulldog Family! Just a quick reminder in Cyber Security, especially with High School Sports nearing districts and playoff time. Not every link that Rudyard is tagged in is authentic, some may be scams. We will do our best to share all available ways you'll be able to watch the games virtually on The Bulldog Bulletin (Facebook) and our website (RudyardBulldogs.org). Good Luck Bulldogs!

Rudyard Area Schools will be having a half day of school on Friday, October 29 This early release  will allow staff and students to attend the funeral of our beloved Lori Brown who passed away on Tuesday. Mrs. Brown was a teacher who taught in our district for 30 years and recently retired.  Dismissal will be at 12:00 Thank you for your understanding

Our Schools Wellness Program received additional funding to help support student mental health and encourage overall wellness this year. Our licensed therapist created a program called "The Change Project" that will be for kids in grades 4, 6, and 8, to learn more about this project check out the website.

EDUStaff will be available and onsite at Rudyard Area Schools/EUPISD Learning Center tonight from 5:30-7:00 at October 26. EDUStaff is the company that most area schools use to find substitute teachers for daily teacher absents.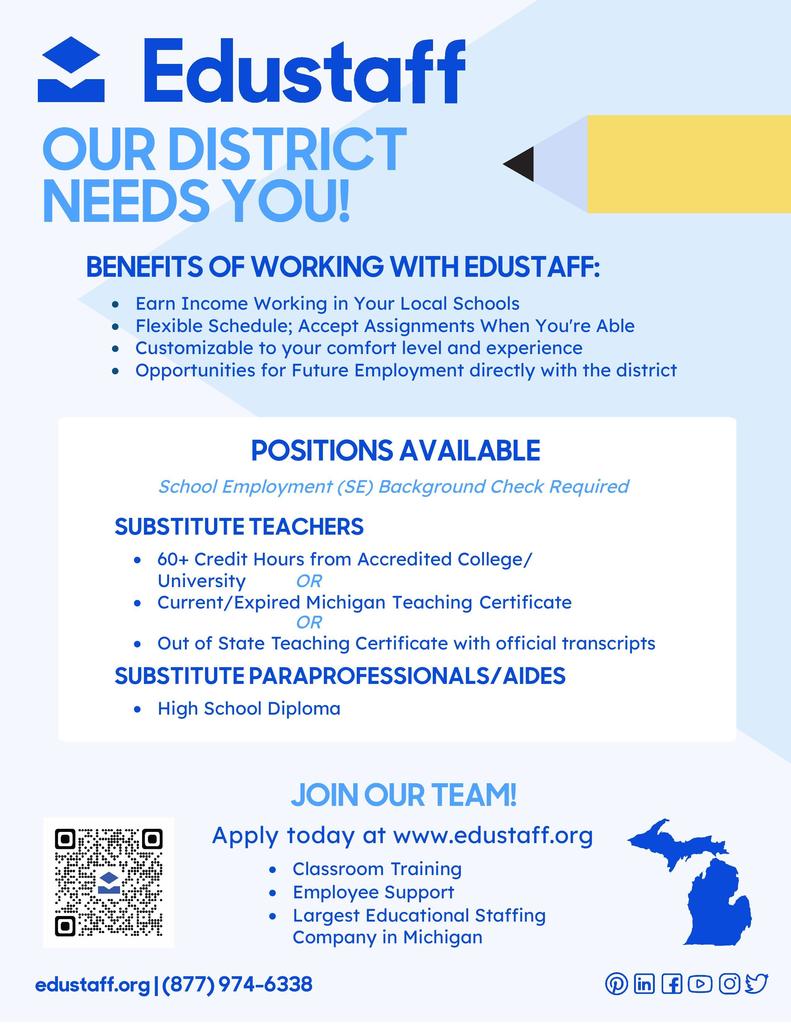 Varsity Volleyball Districts will be on November 3rd at 7:30p.m. Tickets will not be available at the gate, they will need to be purchased from gofan.co. Please do not screen shot the ticket as it will need to be validated through the go fan website at the door.

Varsity Football Playoffs, October 29th @ 7:00p.m. in Munising. Tickets are not available at the gate, they will need to be purchased through gofan.co.

Congratulations to the 7-2 Varsity Football Team who have qualified for the MHSAA 8-Man Playoffs! It will be a rematch with Munising in Munising. Time TBD.

This past week students from the CTE Mechatronics classes were able to take a industry tour of the Soo Locks! Students were able to learn and explore how the curriculum they are learning can be used in local industry. They even got the opportunity to walk under the locks! A special thanks to Alum Ryan Berkompas for setting up the experience!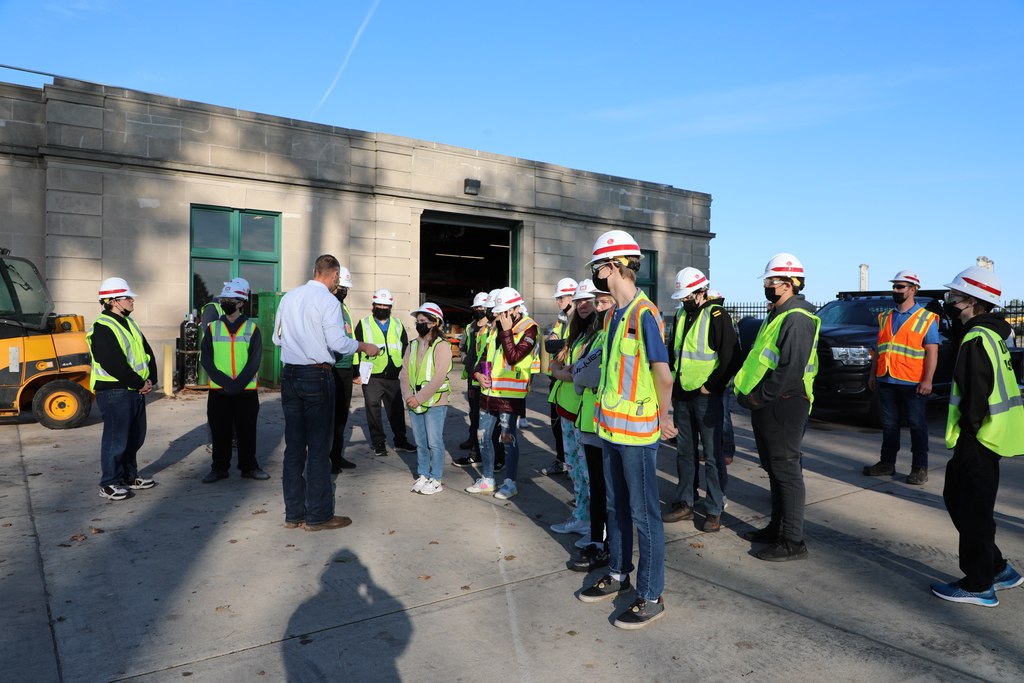 Congratulations to the Middle School Cross Country Teams as they wrapped up their season today at the MHSAA Middle School Regionals! Girls Team: Finished 6th out of 20 in the UP (Today) Boys Team: Finished 3rd in the UP out of 20 (Today) EUP Conference Champs SAC Conference Champs Individual Results Today: Girls: Katie Golladay 10th Carrie Hoolsema 54th Jenelle Hoolsema 69th Destiny Ellison 72th Ellise Jarvie 74th Emma DeYoung 86th Eliza Templeton 91st Boys: Jarrett Smith 1st Steven Kirschner 5th Eli Folkersma 30th Zaire Nichols 36th Seth Templeton 43rd Bryce Mitchell 61st Cameron Willis 62nd Aiden Bohanan 80th Quinn Darr 86th Congratulations again on a awesome season!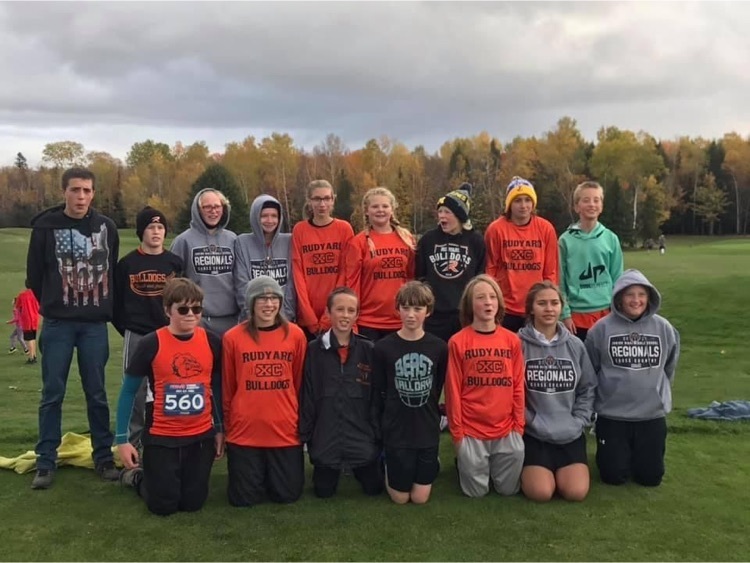 Varsity Volleyball Tournament in Boyne City, October 30: Tickets for this event will need to be purchased in advance, The website is
https://events.ticketspicket.com
. Masks are mandated to be worn by spectators and players at all times during this event.

AGENDA REGULAR MEETING RUDYARD AREA SCHOOLS BOARD OF EDUCATION High School Chorus Room October 25, 2021 6:00 p.m. I. WELCOME & CALL TO ORDER A. Salute to the flag B. Roll call C. Motion to accept the agenda II. STUDENT/STAFF RECOGNITION III. PUBLIC COMMENT IV. REPORTS/CORRESPONDENCE 1. Audit Report 2. Jr./Sr. High Principal 3. Elementary Principal 4. Athletic Director 5. Business Manager 6. Letter of Resignation – S. Davis (Swimming) 7. Letter of Resignation – C. Smith (Wrestling) V. DISCUSSION 1. COVID VI. ACTION ITEMS A. Consent Agenda 1. September payroll - $248,449.57 2. September checks - $513,629.75 3. Regular Board meeting minutes¬¬ – September 27, 2021 4. Letter of Resignation – S. Davis (Swimming) and C. Smith (Wrestling) 5. Neola Policy 2240 (1st read) 6. Neola 9700 (1st read) B. Business 1. Hire Bus Driver 2. Parking Lot 3. Long Term Teacher Sub 4. Audit 5. Athletic Policy Change VII. PUBLIC COMMENT VIII. SUPERINTENDENT REPORT IX. ADJOURN This is a meeting in public of the Board of Education for the purpose of conducting the School District's business and is not to be considered a public community meeting. There is a time for public participation during the meeting as indicated in the agenda. Any person with a disability who needs assistance, please contact the Administrative Office at 906-478-3771 at least three days prior to the meeting.

Tonight!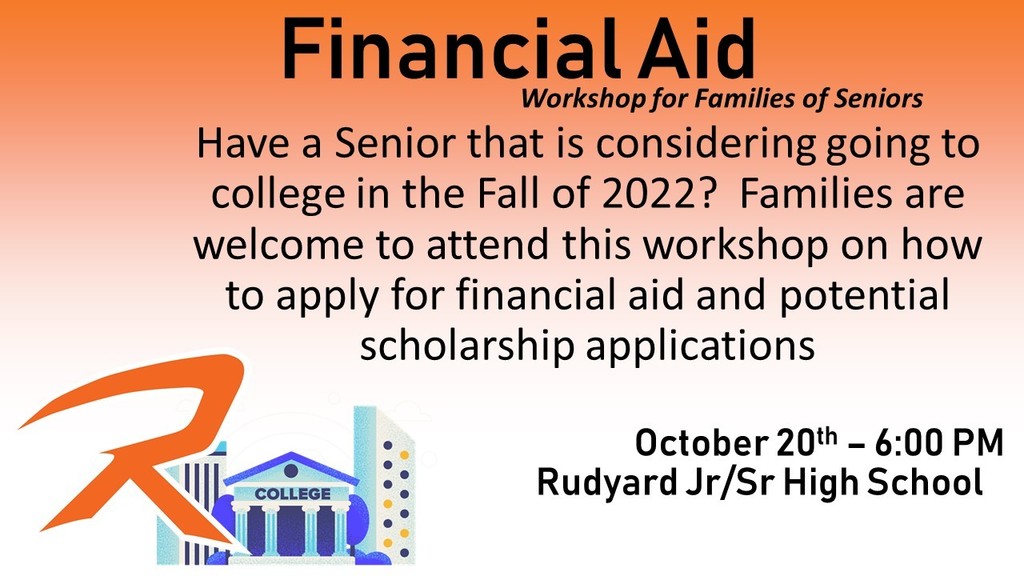 Congratulations to September Student Of The Month for Rudyard Jr/Sr High School Left to Right: Nathen Enriquez Emma Besteman Hunter St. Andrew Keldin Connor Cheyenne Ballard Not Pictured: Mackenzie Armentrout Aubrie Pine Shonda Sparks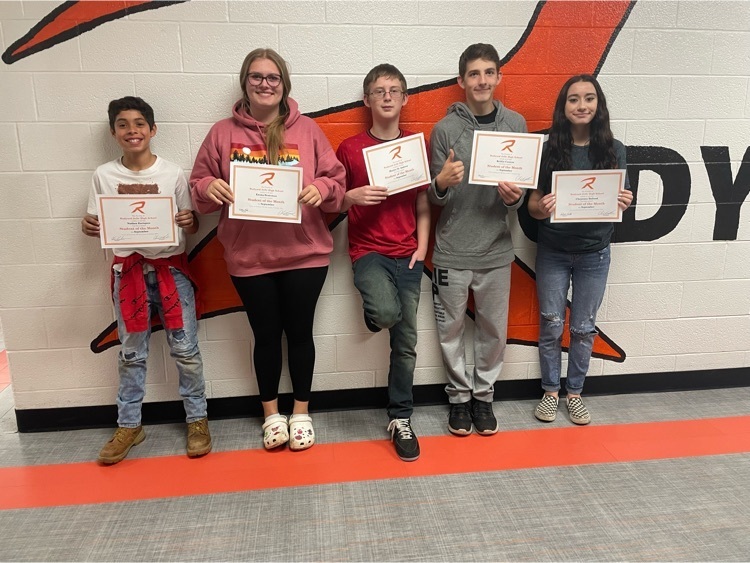 INTERNAL/EXTERNAL POSTING DATE: October 18, 2021 POSITION: VARSITY SWIM COACH STARTING DATE: ASAP DESCRIPTION: Desire to work with and motivate High School athletes. Prior coaching experience preferred. APPLICATION MATERIALS SHOULD INCLUDE: Email Letter of Interest to
jkrentz@eupschools.org
DEADLINE: October 27, 2021 by 1:00 p.m. CONTACT PERSON: John Krentz Athletic Director 11185 W. 2nd Street Rudyard, MI 49780 (906) 478-3771 Ext. 2221
jkrentz@eupschools.org
It is the policy of Rudyard Area Schools that no person shall on the basis of race, color, national origin, sex, height, weight, age or disability, be excluded from participation in, be denied the benefits of, or be subjected to discrimination in employment or any of its programs or activities. The following person has been designated to handle inquiries regarding the nondiscrimination policies: Deb Edington, Rudyard Area Schools, 11185 W. 2nd Street, Rudyard, MI 49780 (906/478-3771).

Don't forget about this Senior Parents!

Excited for the Whiteout Games! Fans are encourage to wear white to support the team!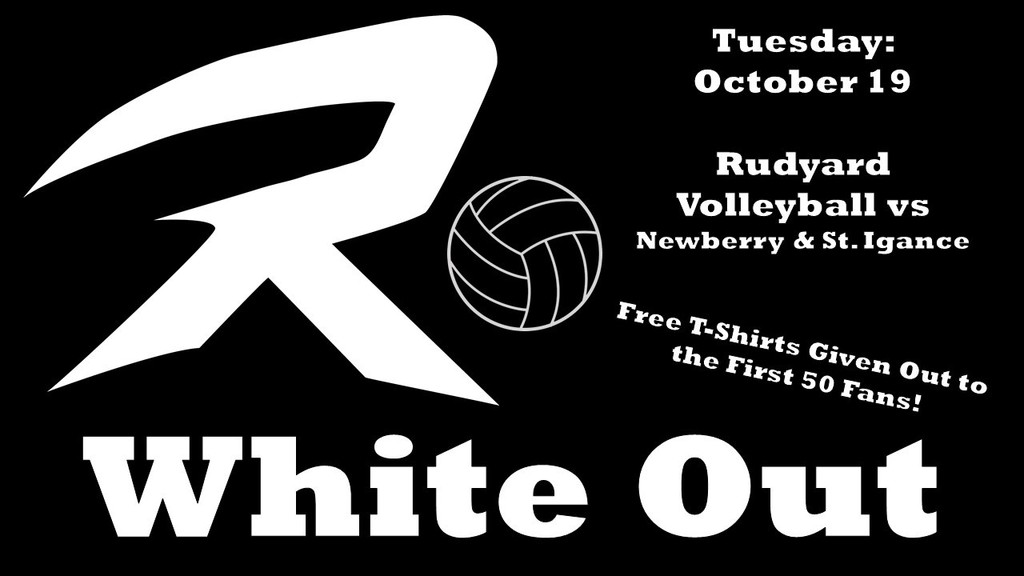 Our online school store currently has a free shipping option for all orders.
https://www.rudyardspiritwear.com
These designs can only be purchased online, other options are available at the Jr/Sr High School Office.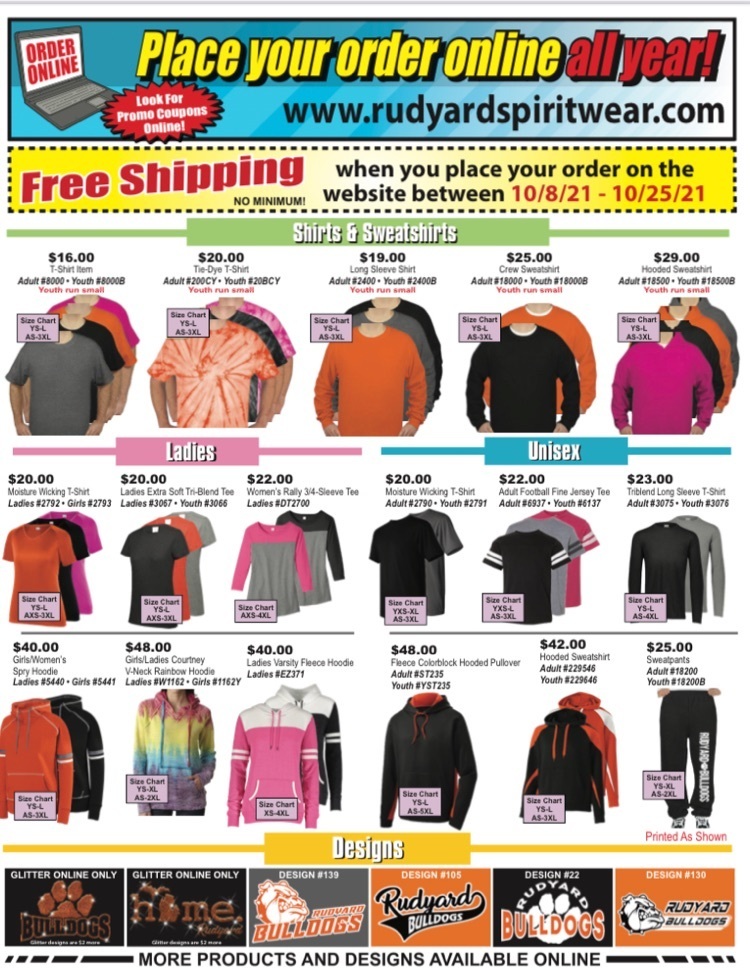 Reminder: Masks are required at all times for spectators, coaches and players at tonight's Volleyball game in Mackinaw City. This is mandated from their Health Department. The J.V. game will start at 5:30.

Drivers ED is CANCELED for Tonight 10/13